PROCESS DESIGN
& REALISATION
The design studio likes to work in a transparent way,
Make clear agreements from the start.
As a result, there's close supervision and short lines of communication for the client.
Introduction and starting points
For interior designer Plamen van Dijk, designing first and foremost means listening carefully and asking questions. "What is really important? What are your visions, wishes and ambitions? What are the constraints of the available space? What is the expected timetable and the available budget?"
The first meeting is informative and non-binding and is preferably held on site. If available, the studio will receive the (digital) design drawings in advance.
Together we will create a "Programme of Requirements" (PoR). We will then discuss which specialities you would like to use and an indication of the design costs can be given. The size and complexity of the project will also influence this.
Plamen van Dijk Design Studio works from concept to final result.
Based on the discussion, a quote and overall schedule for the entire design process will be prepared.
The whole design process is called the design phase, and the construction phase is called the build phase.
Once approved, the studio begins producing design drawings such as floor plans, supported by views and 3D impressions.
Preliminary design is followed by a review of the layout plans. Is the design realistic and feasible within time and budget? Is everything complete and as required?
The construction team is also put together at this stage. Together with the project manager, the necessary parties are selected, such as a builder, an electrician, a plumber, a partition builder, a carpenter and furniture suppliers.
After approval of the preliminary design (VO), the design with any changes is made final (DO). This is also the starting point for inviting tenders and preparing a final budget.
Technical drawings and a bill of materials are developed and the design is ready for execution.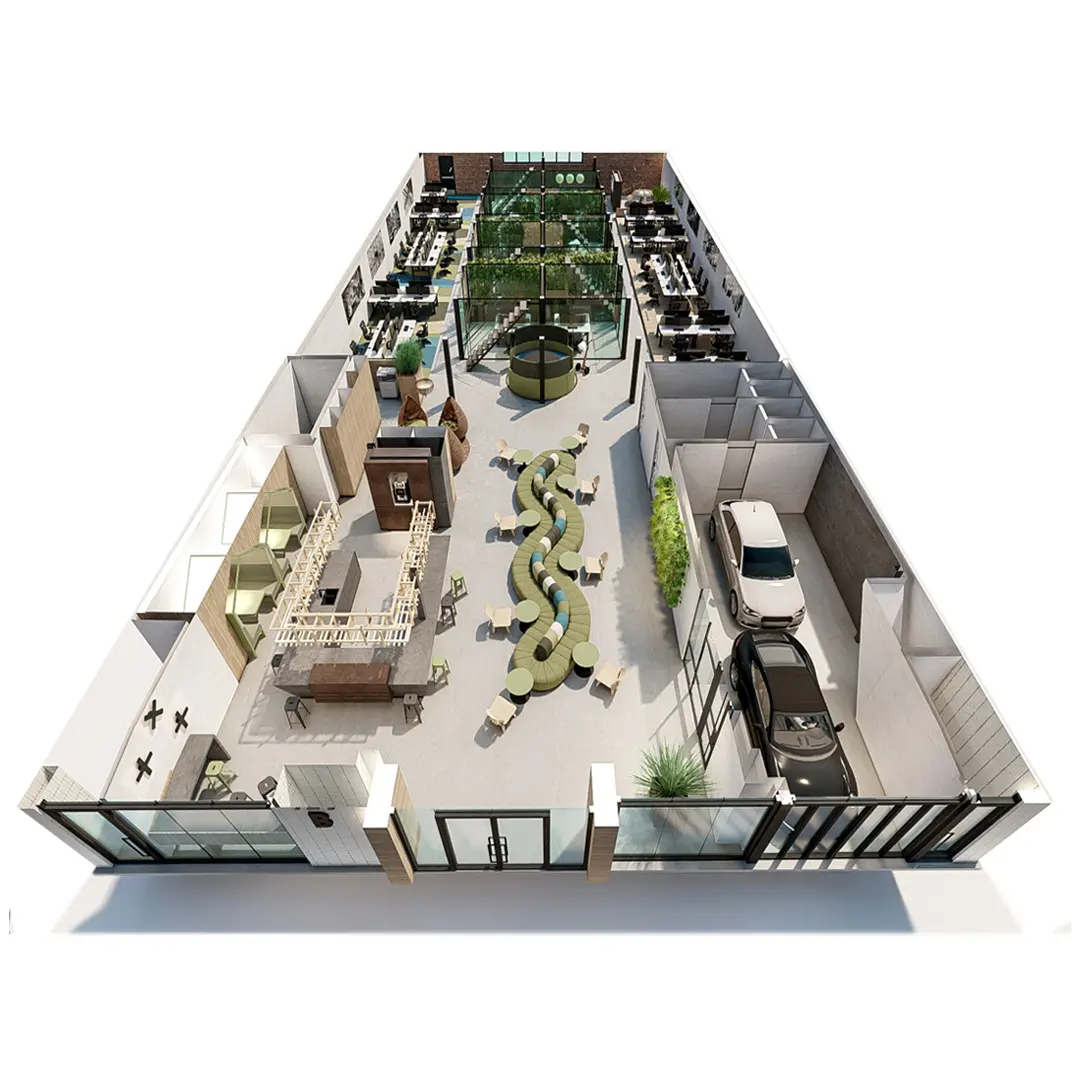 As early as the design stage, our studio starts planning and coordinating with suppliers to ensure quality.
At the start of the construction phase, the schedule is tightened if necessary, suppliers' quotations are checked and the technical drawings are checked again.
The project manager will guide you through the final preparations for implementation.
A strong sense of direction and a clear point of contact for you as a customer.
During the build phase, the project manager and interior designer are the primary point of contact for the client, arranging everything related to the project. The studio has a strong network of contractors, project managers and architects. This allows the most appropriate expertise to be utilised, preferably with local parties wherever possible.